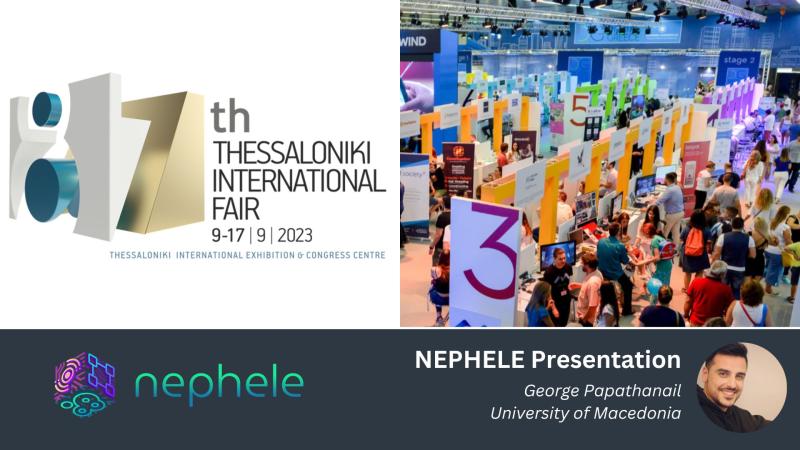 Thessaloniki, Greece
Our colleague George Papathanail from University of Macedonia presented NEPHELE approach to meta-orchestration across the compute continuum at the 87th Thessaloniki International Fair.
Thessaloniki International Fair (TIF) is an established exhibition event that is integrally linked to the history of Greece's economic and cultural growth since its foundation in 1926.

The 87th TIF presented new market proposals in matters of technology, innovation, environmental protection, energy, education, start-up businesses, and e-governance, reflecting thus the modern socio-economic reality of the country. At the same time, the entertainment character of the upcoming TIF will be enriched by a multitude of events and original tributes, attracting the interest of all ages.
 
These were the opportunities to learn more about NEPHELE in the event:
- NEPHELE Exhibition: Monday, September 11, 17:00 – 18:00, Pavilion 14, Stand 8
- NEPHELE Presentation: Monday, September 11, 18:00 – 18:30, Pavilion 15

NEPHELE is a RIA (Research and Innovation Action) project funded by the Horizon Europe programme. Its vision is to enable the efficient, reliable and secure end-to-end orchestration of hyper-distributed applications over programmable infrastructure that is spanning across the compute continuum from Cloud-to-Edge-to- IoT. NEPHELE aspires to remove existing openness and interoperability barriers in the convergence of IoT technologies against cloud and edge computing orchestration platforms, while introducing automation and decentralized intelligence mechanisms powered by 5G and distributed AI technologies.