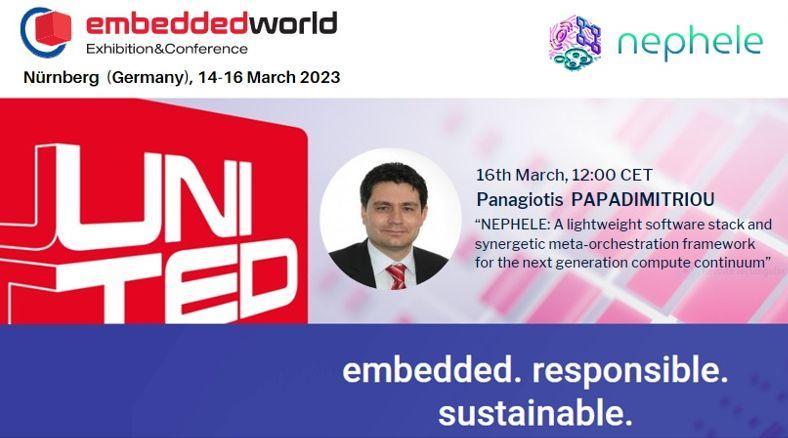 Nuremberg (Germany)
During the Embedded World Exhibition&Conference held in Nuremberg (Germany) on 14-16 March, NEPHELE and EUCloudEdgeIoT were present at the Eclipse Foundation booth. Panagiotis Papadimitriou from the University of Macedonia presented the project and had the opportunity to answer visitors' questions. NEPHELE's first printed brochure was also distributed.
The Embedded World Exhibition & Conference, one of the world's largest gatherings of embedded experts, provides a global platform and meeting place for the entire embedded community, including leading experts, key players and industry associations.
Embedded systems are combinations of computer hardware and software designed to perform a specific function. Embedded systems can also function within a larger system and can be programmable or have fixed functionality.
This edition focused on three keywords:
Embedded: a variety of technological challenges are shaped as complex embedded systems - from sensors to the cloud, from hardware to software, tools...
Responsible: embedded systems are used in critical applications such as medical technology, mobility and industrial automation. Many questions need to be answered, ranging from responsibility by design to formal verification methods and ethical issues.
Sustainable: Embedded systems are central to many efficient and sustainable applications. Embedded systems themselves must also be sustainable over their entire life cycle.