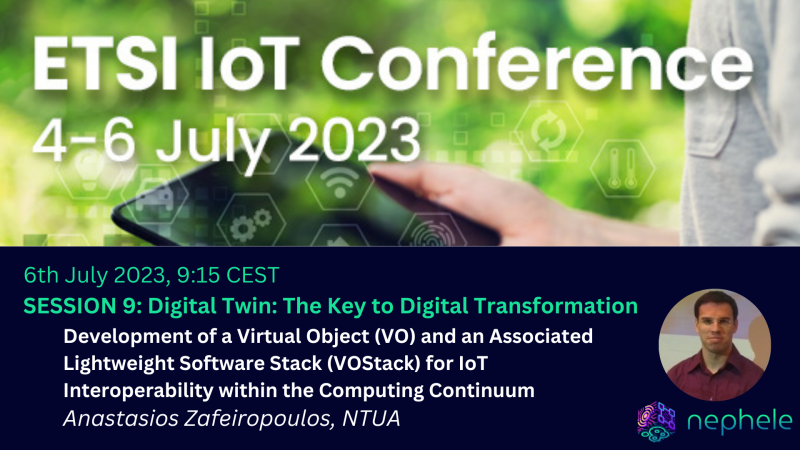 Sophia Antipolis, France
The ETSI IoT Conference, in the framework of the ETSI IoT Week, offered attendees the opportunity to learn and share experiences related to IoT technologies, services, activities, requirements, looking at present and future standardization work. The 2023 edition included IoT demonstrations and offered keynote speeches, presentations, interactive panels, IoT demonstrations and many networking opportunities. This edition focused on:
IoT for the digital and green transformation.

IoT technologies, including but not limited to ontologies, digital twins, edge computing, IoT security, SAREF, oneM2M.

Horizontal IoT standards for the vertical business sectors, including but not limited to smart cities, energy and grid, smart agriculture and precise farming, lift & buildings, maritime services.
NEPHELE was introduced in SESSION 9 – Digital Twin: The Key to Digital Transformation"that took place on 6th July 2023. Our coordinator Anastasios Zafeiropoulos from the National Technical University of Athens presented "Development of a Virtual Object (VO) and an Associated Lightweight SoftwareStack (VOStack) for IoT Interoperability within the Computing Continuum" at 9:15 CEST
Participation to the event was open to all and free of charge upon registration.